Couplehood Workshop
Upcoming dates for the Couplehood workshop:
Location disclosed after registration. Space limited per workshop.
Registration form is below.
Friday/Saturday, July 21 & 22, 2023
Fri: 5pm - 8pm / Sat: 9am - 5pm

Friday/Saturday, November 10 & 11, 2023
Fri: 5pm - 8pm / Sat: 10am - 5pm

Couplehood: A New Way to Love is an educational program for couples based on Imago relationship Therapy, a theory created by Harville Hendrix and Helen Hunt, and first presented in the best-selling book 'Getting the Love You Want'. This 2-day educational workshop offers simple ways couples can grow together for a more loving, passionate, safe, fun-filled and connected relationship. You'll explore how to: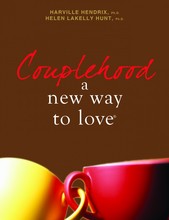 Break destructive patterns of communicating, resolve conflicts with compassion and ease
Develop effective new communications skills using the "Imago Dialogue"
Navigate through frustrations
Renew the passion and pleasure in your relationship
Discover the root of your conflict and learn new conflict resolution strategies
Experience individual reflection through written exercises and guided imagery
Achieve a common vision of your dream relationship together
Experience empathy and connection with your partner
Recreate the love, attraction, laughter, and joy with enhanced closeness
Although this workshop is conducted in a group setting, couples are never required to participate in group discussions and will break off into private areas during the exercises.
Cost: $395 per couple
Important notice re COVID-19: Please note any interaction with the general public poses an elevated risk of being exposed to COVID-19 and we cannot guarantee that you will not be exposed while in attendance at the event. Dianna Westbrook is not responsible for the health and safety of this event. It is encouraged that you follow the organizer's safety policies, as well as local laws and restrictions.